CEILING & ROOF INSULATION

Ceiling and roof insulation can reduce Winter heat loss and Summer heat gain
by up to 35%!
---
Roof Insulation vs Ceiling Insulation
Did you know that roof insulation (also known as roofing blanket) and ceiling insulation are two different products? Many people don't! Here's what you need to know...
Ceiling insulation is the product we think of most often when making our home more temperature-comfortable—it's the stuff that typically comes in 'batts' and sits on top of your ceiling plasterboard. On the other hand, roofing blanket is a product that combines insulation bonded to a thin foil layer. Rather than resting on top of your ceiling, roof blanket sits directly against the underside of your metal roof.
Ceiling insulation is a very thermal efficient option, however, heat can still enter your home and become trapped inside your roof cavity. Roofing blanket prevents heat transfer at the roof line itself, making it a more efficient product.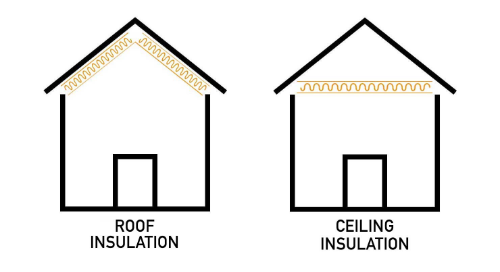 ---
IMPORTANT!
While ceiling insulation is a simple DIY job for a new or existing build, roof insulation can only be installed during the construction of a new metal roof. This means roofing blanket is only an option for new builds or major renovations.
---
How much insulation do you need?
Use our insulation batt calculator to find out how much product you need for your project.
What R-value do you need?
The higher the R-value, the more effective the insulation will be at creating a comfortable home environment, absorbing sound and reducing your energy bills. So, we recommend choosing the highest R-value you can afford. It's also important to consider insulation as a long-term investment—with Australia's rising energy costs, the right insulation can save you thousands of dollars over the life of your home.
Below you'll find the R-value range the Ecolife Solutions expert team recommend for ceiling and roof insulation.
Viewing on mobile? Swipe left on the table to scroll across the columns.
To learn more about what R-values are and our recommendations for your wall, ceiling and roof insulation, checkout Ecolife Solutions' guide to insulation R-values.
looking for diy instructions?
Check out our handy DIY insulation guides and videos. They're step-by-step to make your home project super simple.
Ecolife Solutions makes choosing and buying insulation online easy!
Our aim is to stop you feeling overwhelmed by the sheer number of insulation choices out there. We only offer a limited range of insulation products that we believe are the safest and highest quality.
When you shop with the Ecolife Solutions online store, you can rest easy knowing you've made the best insulation choice available.
---