WHY EARTHWOOL® INSUALTION?

Cooler in Summer. Warmer in Winter.
Quieter all year round.
---
50 Year Warranty
Earthwool insulation is completely odourless, resists water absorption from the air and is rot proof. It's one of Australia's most resilient and durable insulation products and comes with a 50 year insulation warranty. Now that's confidence!
Outstanding Efficiency
Earthwool's innovative glasswool insulation batts are available in a range of R-Values and weights to provide efficient energy saving and sound absorption. No matter your needs or budget, Earthwool insulation will keep your home or commercial property cooler in Summer, warmer in Winter and quieter all year round.
Safe for the Family
You can sleep soundly with Earthwool. Their ECOSE® sustainable technology allows their insulation to be free of added formaldehyde, phenols, acrylics, artificial colours, bleaches or dyes. The product is certified by Eurofins Gold as an 'outstanding material' according to the COV (Volatile Organic Compounds) Indoor Air Quality emissions regulations.
Earthwool insulation is also non-combustible helping to protect your commercial property or family home from the risk of fire.
Superior Sustainability
The Earthwool product is made using recycled glass bottles bonded with a bio-based binder called ECOSE Technology. ECOSE  Technology reduces embodied energy (energy required during the manufacture and delivery process) delivering a superior environmental sustainability. You can sleep soundly knowing your Earthwool insulation contributes to the overall sustainability of your building.
Easy to Install
Earthwool insulation batts cannot be beaten for ease of installation. The Glasswool batts are compact, easy to cut, super-soft to handle and virtually itch-free. More than 90% of professional installers stated that Earthwool has a softer feel and is less itchy compared with conventional glasswool insulation.
Never installed insulation before? Not to worry! Detailed instructions come with each pack of Earthwool insulation ensuring even the most inexperienced can get the job done right with minimal fuss. You can also find step-by-step instructions and video tutorials online in the insulation DIY section of our website.
Shop online now for competitive pricing on wall, ceiling and roof insulation batts delivered to Brisbane, Sydney, Canberra and beyond.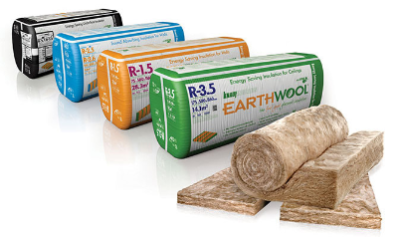 ---
ODOURLESS

"You really cannot smell it. It's definitely an improvement over the smell of traditional glasswool and makes the product more pleasant to work with".
EASY TO CUT

"I PREFER THIS PRODUCTS, QUITE SIMPLY, IT'S EASIER TO WORK WITH."
SOFTER FEEL

"THIS IS GREAT STUFF! IT DOESN'T ITCH; I CAN'T BELIEVE THIS IS GLASSWOOL."